16 December 2021
100 so called "Meta-Birkins" NFTs dropped for sale
MetaBirkins is a collection of 100 unique NFTs created with faux fur in a range contemporary color and graphic executions and a tribute to Hermes' most famous handbag the Birkin, so it seems. The 'real' Birkin is one of the most iconic exclusive luxury accessories with a mysterious waitlist, intimidating price tags, and extreme scarcity that doubles as an investment or store of value.
Creator Mason Rothschild began working on MetaBirkins shortly after the success of 'Baby Birkin', a one-of-one, NFT covered by Forbes and Vogue that sold at auction for 5.5 ETH (23.500 $). In response to the community demand, Rothschild developed a new series, this time inspired by the acceleration of fashion's "fur free" initiatives. The "MetaBirkins" collection was introduced early December of 2021, at Art Basel in Miami, Florida.
The NFT's are not affiliated, associated, authorized, endorsed by, or in any way officially connected with Hérmes, or any of its subsidiaries or its affiliates. The official
Rothschild seems having democratised the elusive 'it' bag but with a price range of 0.3 Ethereum to 249 Ethereum (the over $3000 per coin tag), you can hardly call them cheap. Not to compare with the recently released very cheap but very virtual Gucci sneakers for barely 12 $.
If you're interested, the MetaBirkins NFT's are available for purchase on OpenSea. Enjoy!
UPDATE January 3 rd 2022 by @fashionunitedhq
The bags were for sale on OpenSea, a peer-to-peer marketplace for NFTs, with a trading value of 1.1 million dollars, but were removed earlier this month after Hermès possible said they infringed its trademarks, as the designs were neither licensed nor endorsed.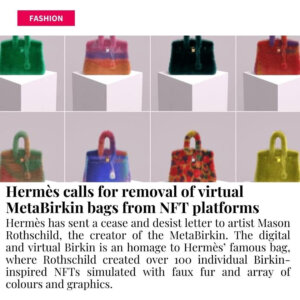 Rothschild, in an open letter published on his Instagram feed, said the MetaBirkins NFTs are protected from the luxury brand's trademark claims. "The First Amendment gives me every right to create art based on my interpretations of the world around me." Rothschild further believes his designs are "a commentary on fashion's history of cruelty to animals, and its current embrace of alternative fur-free and textile initiatives."
Close